I picked Sarah up from the airport on Saturday. I bought us Sawatdee, then I watched The Devil Wears Prada while she slept, first on my shoulder, then in her bed. It was nice to have her home, even asleep.
Sunday we went shopping at Target and Rainbow, then made lasagna. Her brother is crashing on her couch until his apartment gets approved, so he showed up. We came back to my house to watch Bandidas, which is indeed that good. Sarah fell asleep again — jet lagged from Glasgow/London, I suppose, or not as much interest in, you know, Bandidas.
Today Sarah and I dropped off Noah at his Aunt-in-laws (which was an exciting thirty mile an hour drive across the entirety of the Twin Cities), then went back to her place so I could finish off my pad thai.
I came home so that I could:
Take the dog for a walk
Shovel
Fix my gallery so new thumbnails show up as highlights
Scan more Lomo photos!
Visit a hilarious site about shaving ones sac (and other areas) which is WORK SAFE
Return Bandidas*
Finish that long ass blog post*
Watch six back episodes of Psyche*
Write a letter to the USA Network requesting that they only show quirky funny detective shows**
Write another letter to USA requesting that they make an exemption to the previous request for the triumphant return of USA Up All Night**
Take the dog for another walk**
Legend:
* pending
** dubiously pending
Hot Dog: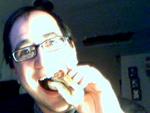 Bandidas: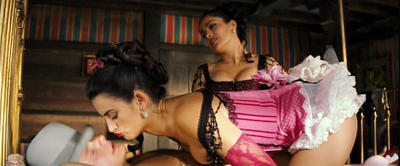 Do you see that? It's STEVE ZAHN! He's so dreamy. Also, Penelope Cruz and Salma Hayek, but, whatever.