My mom and I went to look at an apartment Saturday morning. Afterwards, we drowned my disappointment at the Mill City Cafe in Northeast. I took a roundabout way there, and on the way, my mom spotted a red robot in a window.
"Look! There's a robot in the window of that antique shop!" she said. I glanced over and declared that my hunger was too great — we would have to visit after breakfast.
Little did I know that there was a cute, black rangefinder camera there.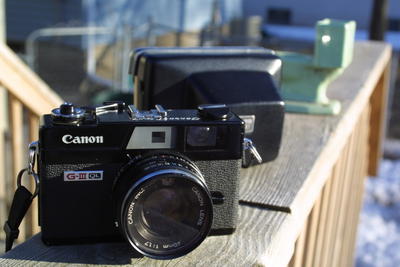 After breakfast we stopped at the antique shop. I went straight for a camera case, which held a disappointing plastic polaroid camera that uses some weird roll film. I commented to my mom that this wasn't the sort of camera in which I was interested. The proprietress of the shop dug around and pulled out an overstuffed bag full of camera cases. I was ready to dismiss the whole thing, but the first case that I pulled out said "Canonet" on the front. My brain clicked instantly: Canon's small fixed lens rangefinder camera from the seventies or so. I opened the case and saw the magic number "17," which indicated a super fast f/1.7 lens.
"Howmuchhowmuchhowmuch," I asked, betraying my own excitement. I tested the battery, the meter, and the shutter while talking excitedly and opening and closing the back somewhat uncontrollably. It probably wasn't the best idea — the $40 asking price for the bag seemed to not include the promised 50% off. Oh well. I got around Lisa's remonstration to not buy any cameras when my mom agreed to buy it for me.
Thank you, mom!
I called Sarah in the car. She was on the beach in Miami. There was much, much rejoicing. Now I have a camera that I can stuff into my bag to carry to school with me. I just need a lens cap and a faster case: something more like a pocket. I'll figure that out.
Another glamour shot: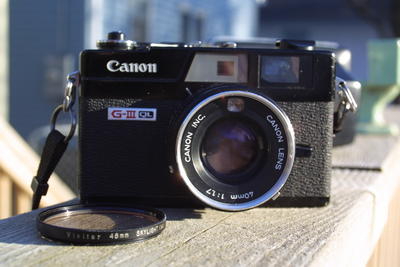 And now, pictures from the new (antique) camera:
Surprise! It's the top of a tree!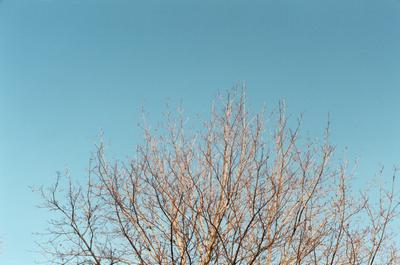 Noah is a ham.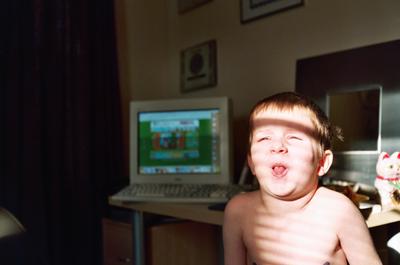 Aww, it's my car!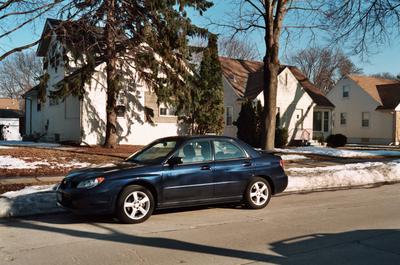 And one more of Noah, this time on the computer.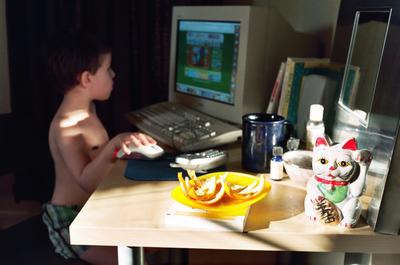 One Response to "Canon, Canonet "