I took several hundred pictures over the weekend.
Burger Time:

Burger Time: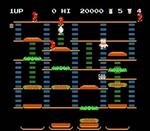 One better than Motel 6

Tubgirl the Chocolate Fountain:

Kay's Kitchen in Saint Joseph, Minnesota

Cowboy Up

This street is NP Complete

Sarah Sarah Sarah

The sky is extra blue in North Dakota

You can tell the religion of those cookies:

Stop taking pictures of the tops of trees, Jesse:

There is seriously something wrong with the sky in North Dakota, it's like being in outer space:

What do the letters M and F stand for?

Sarah, again, because, you know, Sarah and all that.

Fiber Optic cake topper:

Sarah really likes this picture of her cousin Nate's girlfriend Tiffany:

We may have been horsing around in the corpse free cemetery:

Sarah wore a new dress:

There may have been dancing:

Sarah's parents may have been dancing:

Uncle Rick and Cousin Nicole:

Hokey Pokey, or Chicken Dance, or something:

Okay, lunch time is over.
8 Responses to "Make With The Pictures "