Lately I've been thinking that I need a relaxed boulevard cruiser with panniers big enough to transport a case of beer*. Lo and behold, someone left their brown cruiser unlocked in front of my building for an entire day.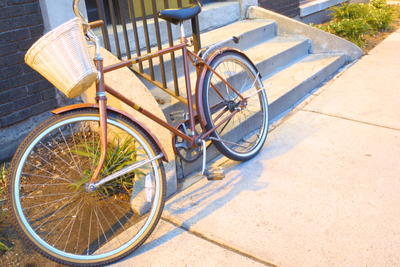 I wanted it so very badly, but I left it for either the owner (who was either displaying poor judgement, getting rid of the bike without a FREE note, or secretly watching from across the street to see how long it would last) or some truly needy soul with either no bicycle at all or at least a jones that they could fill by selling the bike. Nonetheless, I'm looking for something upright that could use standard mountain bike wheels and tires (maybe with a three or seven speed internal hub) or 300x32 road bike wheels (and then I could give it parts from my Surly and rebuild my Surly to be faster).
Can I make the admission that I kind of want to ditch my car now that I don't use it during the week? Such a notion is easy to imagine as spring arrives. I wonder if I could sustain it all summer and into the fall.
Oh yeah, tonight, while riled up on a stomach full of beer and Student Employee Relations Committee sponsored food, I raced a bus with my bike for about half a block. The bus won.
*A case is 24 beers, so one 12 pack of Summit on each side would be sufficient — and well balanced. ESB and Maibock? SOLD.
11 Responses to "Dear Brown Bicycle That Was Loitering Outside of My Building All Day "