Memorial Day weekend was unexpectedly busy.
On Saturday, I led a vast expedition to Hiawatha Cyclery so my mom could take her bike in for a tune up. I've done enough research and cycling that I can now do rough translations and ask the right questions on the behalf of other people, with the hopeful result that I don't have to explain a million things that other people can get paid to explain. The shop had a reasonable amount of traffic rolling through it, but everyone seemed happy and better educated when we left. My mom ordered up a few tweaks like new handlebar grips and a crazy bright flashing rear led light. Sarah got a U lock and a helmet.
My mom and John are all "we love organic food wawaeewa" which is all right we me. As such, we hit up the Birchwood Cafe. I had the chicken quesadilla, which was really good, but could have been bigger, or paired with a big free salad of hearty greens.
We stopped by the Hub because John was really itching to see some bikes. I pointed him at a few and told him that he should test drive a bunch of bikes to figure out what was really comfortable. We didn't do any test riding, but everyone seemed excited by the possibilities. I was already kind of beat, so it had been all I could do to keep them from rashly buying any sea foam green bikes without first considering whether the bike would be comfortable to ride. My mom got a U lock and cable set, and Sarah picked up a cable.
I should mention that the reason we went to those places are because I have had good experiences with Jim's business (Hiawatha), and his car-free philosophy is inspiring. He's the one from whom I heard the phrase "life at a human scale." I make a pretty unlikely bicycle advocate, with my reliance on other people's reliances on gasoline, but I hope to translate the wilder ideals into bite sized portions for the general consumption of the people around me. Mostly I just commute and give people the straight scoop on it: I'm tired a lot but it hasn't killed me yet.
The weird part is that I know from experience that not everyone can commute by bicycle. I'm not talking about living in Anoka — I never quite figured out how to reconcile what I wanted in my life with the realities of transportation — I'm talking about hurting my knee and being unable to bike for a month. This wasn't my usual post-winter laziness where I put off getting onto the bike for a week or a month past the warming of our frozen north, this was abruptly-sit-on-the-floor-of-the-hardware-store-and-try-very-hard-not-to-cry kind of immobility. My mom has a seriously knee: she might never be able to reliably commute even an easy couple of miles.
I still want to see the streets thick with bicycles like China or Amsterdam. We move "backward" to move forward, except when we have to pick up a nice leather sofa*, then we get the F350 out of the garage.
On Sunday my mom's husband John drove down to Iowa to pick up my grandparents and brought them to the Chianti Grill for brunch. There were bottomless mimosas and a pile of bacon big enough to swim in a la Scrooge McDuck. My recommendation: just eat the bacon — swimming in bacon is a greasy, crunchy affair, and you don't get as much in your mouth as you'd hope. Breakfast buffets are exempt from any calorie counting. Delicious.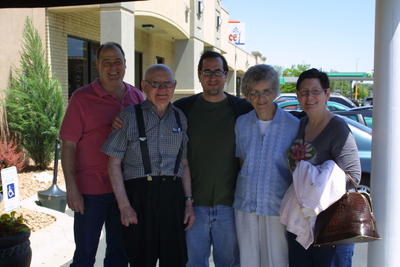 Since this post has a strong bicycle theme, I should mention that Sarah drove us to the brunch in her car.
After brunch, Sarah and I visited the photo lab at school. She had a bunch of little things to do. While she did her nefarious deeds I went through the unclaimed pictures bin looking for nudes. Finding none, I swiped a picture of some plastic army men on a toilet (for the bathroom), a woman screaming under water (for over the fish tank that my mom gave me), and some random others that are kind of cool in a "found art" kind of way. You can find things by looking for them, I suppose.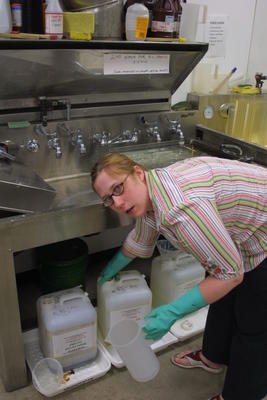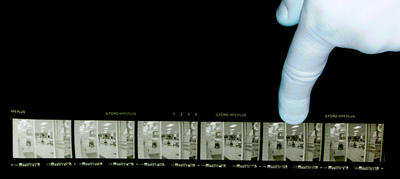 We visited the Keathlys to show them pictures, I think. My brain is getting kind of hazy.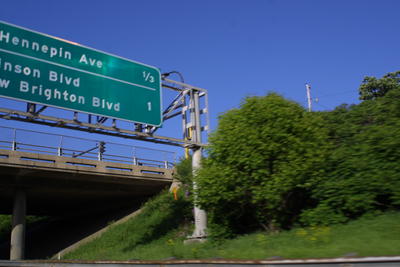 I think that there was grilling and Noah wore a paper monster costume. I mean, it was a paper costume that made him look like a monster.
Here, just look: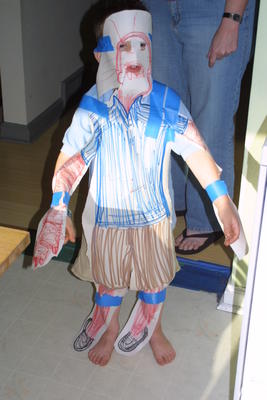 *as a rule I am not a fan of leather sofas
One Response to "Last Time on Jesse Mullan "