At the end of the day today I felt a bit off: panicky for no reason I could figure out. Somehow the VIC-20 bleeps I had found on youtube were breaking my heart. My mom called and asked if I still needed an air conditioner. By the time I got home I was nauseated. My apartment was seven degrees cooler than the outdoors, but walking in the door felt like stepping into a canvas bag — perhaps the bag that I woke up in two days ago. It had taken over two hours to claw my way to wakefulness.
Yesterday there were no air conditioners at the SuperTarget. Today the RegularTarget had dozens. One of the neighbors on the stoop opened the building doors for me as I carried it in. Sarah showed up with picnic fixings like pita, hummus, and watermelon. I mixed a gin and tonic and we lit for the park, leaving the air conditioner rumbling its moan. Watching movies on a blanket in the grass while sipping a g&t is awful close to heaven — as evidenced by the faint twinkle of stars overhead.
The film was the Milagro Beanfield War, which is a light tale about small farms getting squeezed out by land development. Also there is an angel and Christopher Walken, so it was pretty much all "magical realism."
The miracles in this case was a lovely evening followed by a return to a blessedly cool room. I'm crossing my fingers for the good night's sleep that I've been missing for a couple of weeks. Time to do just that.
Aw, hell, here's a shot of Donald with his new moustache: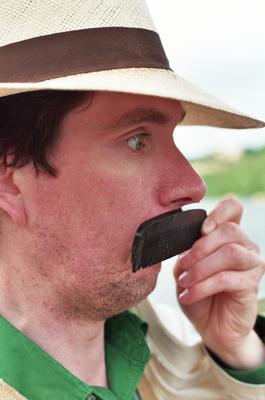 And Chandler, for that matter, having once again stolen Donald's umbrella: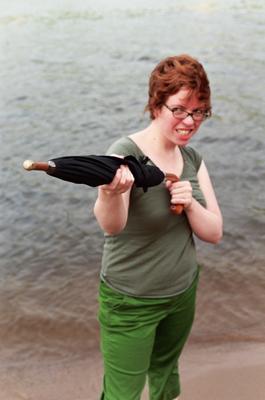 11 Responses to "Milagros "