I finally replaced the aquarium that I left behind in Minnesota with a new one. Observe: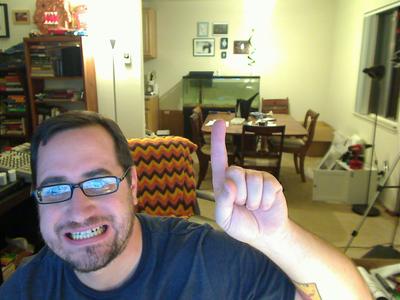 Also visible in the picture: a Domokun piñata. Target is pretty much sold out of Domokun stuff, which I am really sad about. Domos are super kawaii!!!!!!!!L! LK!L!K LK! LK! LK! J:LK! kj hagkjlsd hg;ljksadfhg
Not shown: how eerily non-trashed my apartment is. It could use more cleaning, but somehow I have a living room that you could walk through without tripping if you were to come visit me in California.
Also, I'm all set up on Skype, so if you buy, for instance, a Logitech QuickCam® Pro 9000 webcam and plug it into your computer, we could say hello. I would even put on pants, even though you generally can't tell that I'm not wearing any.
3 Responses to "Now With More Fishtank! "