Sigh… there aren't enough lazy days where Don calls me up and asks me to go to the dog park with him and Loki. Pictured are Don, Jasmine, and the great dane with yellow fever. Loki was too fast to photograph (except when Don flipped him into the pee-smelling dirt of the dog park, yuck).
Tonight I went with some coworkers to a couple of bars in San Francisco: the Parkside and the Zeitgeist. On the way back, I was driven fast enough in an Audi to nearly wet myself, but we arrived back at my car in one piece, and I drove two sleeping coworkers back to Cupertino with six glasses of water in my bladder.

These were the same coworkers who convinced me that a bacon pie — really a cheese pie with a bacon crust was a good idea. Okay, you got me, I love the absurd and this truly qualified.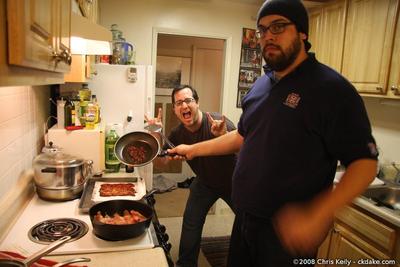 (image by Chris Kelly, used without permission, but probably it's okay)
Anyway, them's the shenanigans, such as they have been.
4 Responses to "California knows how to party "