It's new to me: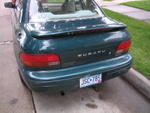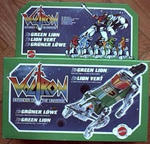 The car in its original packaging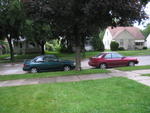 Green Lion and Red Lion - now form Voltron!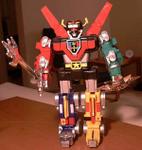 No, not really. I got a new USED car. $800 and a trip to Saint Cloud to meet a nice couple of teachers. Lisa and Noah came with - we put the car seat, DVD player, and a portable screen in my red car - and Noah was really good the whole way! The car is a 1995 Subaru Impreza LX with an automatic transmission.
As you may know, I already have a red (crimson pearl) 1996 Impreza LX (which I still have a painful love for [story of my life]), but that car is missing a headlight and needs a ton of work that I have ignored over the last couple of years while doing things like paying off my credit cards (and that car itself).
Anyway, Lisa can drive the red car to the grocery store until I figure out what to do with it. My gut says to start throwing money at it again, but we will see. I know how much the bodywork will likely cost. I have a vague idea of the cost of doing the brakes (the rotors are warped) and fixing that lingering tapping sound in the engine that is probably a leaky oil pump seal. In the meantime I have a more reliable car that is only missing A/C and cruise control. Also, the outside is beat to heck - apparently the former owner did not know how to park.
Okay, so now I have a red one and a green one - all I need are the yellow, blue, and black ones and I can form Voltron.
One Response to "A new NEW car! "