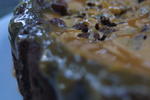 I think that I was up too late. At least I wasn't up as late as Cake Woman, who is working the third shift now. She baked me another cake, but this one had crumbled under the weight of its own deliciousness. I hope she is sleeping now instead of plotting more cake. I may take a nap in anticipation of tonight's fireworks, perhaps while the Monk marathon plays on TV.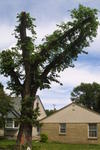 I took a little time to take pictures of seven of the eight elm trees in the neighborhood that will be cut down. Thanks a lot, Dutch Elm disease. I would have taken a picture of the eighth one, but it snuck up on me. Hopefully they won't plant a dozen of the same tree next to eachother again — c'mon, how about a little biodiversity for once?
Hoffentlich meine neue Freund liest mein Blog jetzt gern, aber schreibe ich nicht auf Deutsch. Was fur eine Artikel soll Ich schreibe fur Sie? Vorher Ich schreibe sollte ich mehr schlafen?
I swear that I'm not always this off-kilter, but my German is always this atrocious.