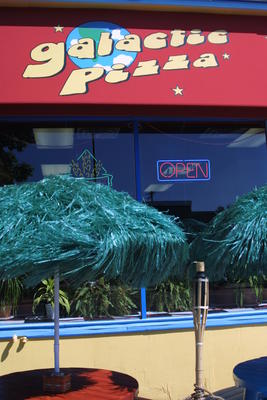 No, they don't serve pizza by the slice. :(
zach: Christy, who also lives in Whittier as of tomorrow, was very excited that you were taking pictures: "Wow, so we're actually doing this Whittier blog thing!"
So, yeah, round one was a success, and I feel as though I know Eat Street and Lyndale a little better. Nicollet deserves a solo run or two, I think, with no other streets to distract from all its delicious glory. Zach promised some backup for the more in-depth parts of the work, like interviewing people. I'm shy! I can't just walk up to people and be all "hey, tell me your awesomeness!" Actually, I can, but I have to want to.
If you want your neighborhood photographed, you just have to supply me with a spotter to walk with me so people can't sneak up behind me with a brick. Good conversation is a plus. Must like long walks, good beer, indie rock, and listening to me babble. Must supply own comfortable shoes.
I want to photograph the length of Hennepin. End to end it's like seven miles. That's about twice as far as I went today, so it would likely take about eight hours with breaks and long pauses to photograph white castle boxes. It's what you crave.
But what is my neighborhood? I live in Waite Park, but Audobon feels more like home with the shops and stuff. Maybe I should go back to Southeast Como. I think it needs a nickname, like "Southeasy." Yes, I thought of that after making a typo, but imagine the "Big Easy" style festivals! Mardi Gras in Minneapolis! Jazz bands! Drunken partying! Parades! Delicious food!
Speaking of delicious food, tomorrow is the fair with the Keathlys! Plus, if I'm very good, I might get to see that rollerderby business. Beefy women in fishnets punching the crap out of eachother on skates! How can I lose?