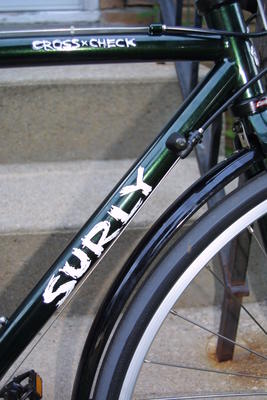 The seemingly endless research and conversations with anybody who had any interest at all (mostly Jeremy, thanks, man!) led me to try out the Surly, and it was the best fit so far, period. It felt more sprightly than the Volpe, but strangely, it mostly just felt like mine.
I rode it home from Freewheel, which is a mere four and a quarter miles, but I felt like I could do another ten. Somehow I didn't, but just the same. Ahem.
I spent the rest of the evening futzing with the bike. I forgot to get a rack at Freewheel — or maybe I just didn't think that I would need it — but I wasn't satisfied with the mount for the bike lock so I picked up a shady rack at Target. After I put that on it was dark, so I went to try out the headlights and the lock storage solution. Somehow my foot, the tire, and the front fender all tried to occupy the same space-time coordinates and I bent the shit out of it. I'm pretty sure that couldn't happen at speed given the necessary severity of angle, but still I'm glad that I normally wear a helmet.