http://www.zombiepubcrawl.com/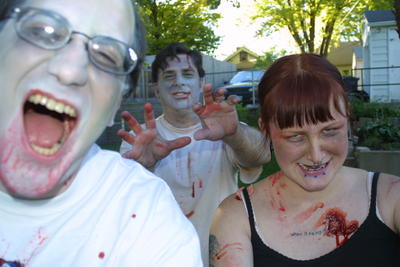 Our mini horde attacks!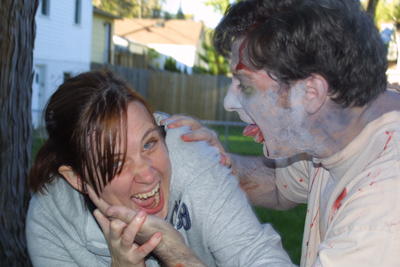 Lisa helped us zombify, which led to her demise.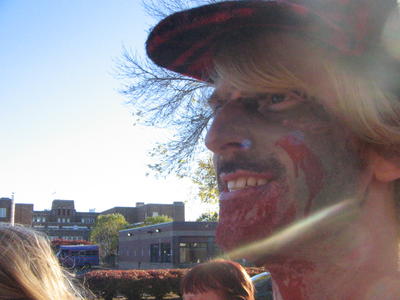 Zach is majestic in his glory.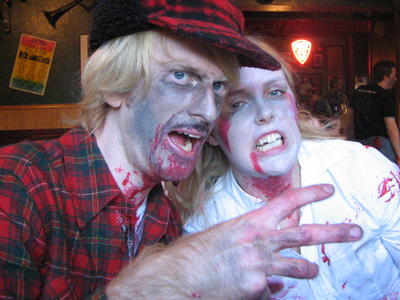 Malory is evil hot.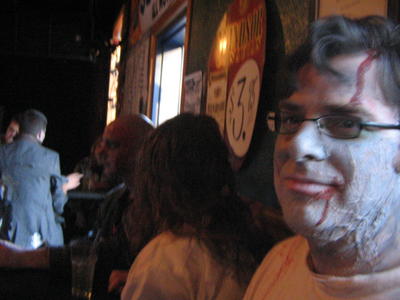 Stan looked amazing.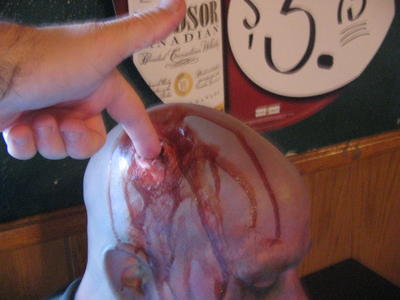 Dude! I can totally feel your brain!
This guy was actually a zombie! I introduced myself, but damned if I can remember anyone's name from the night.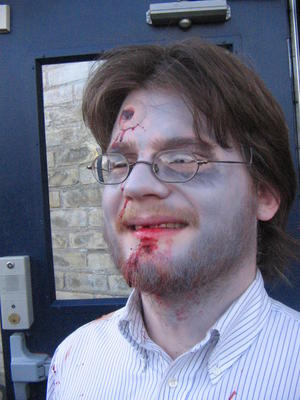 If you shoot them in the head, aren't they supposed to stay dead?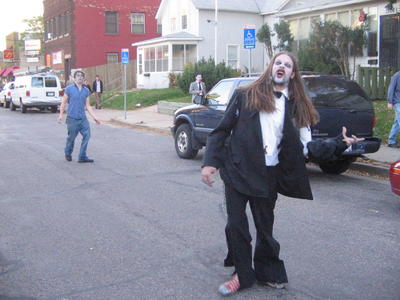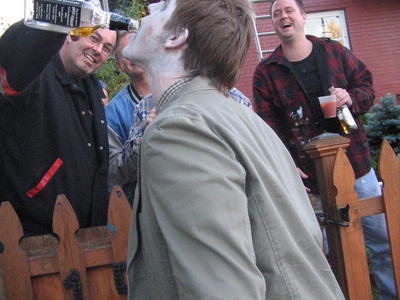 How is this a good idea? Thanks for the whiskey, by the way, it was delicious!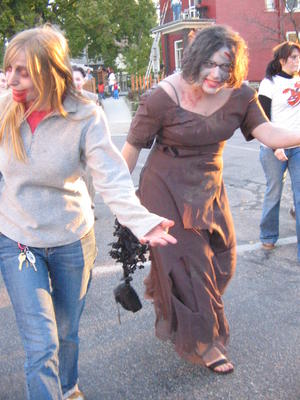 Claudia (on the right) owes me a t-shirt. Really, she owes it to Stan, but he bought it for me. Hey, I have her email address in my pocket!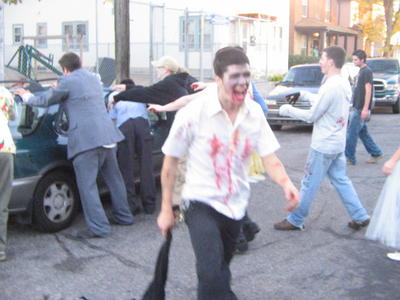 We stopped traffic.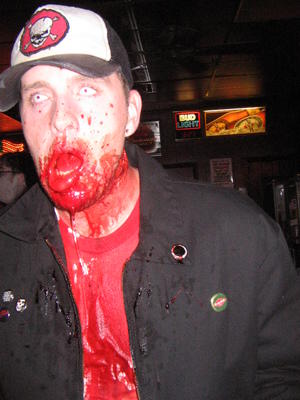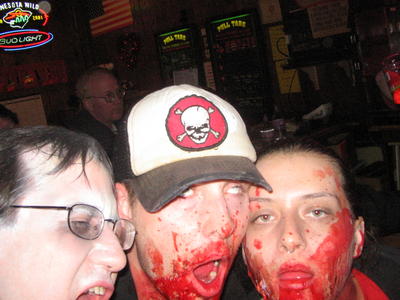 Looks like someone got their red wings!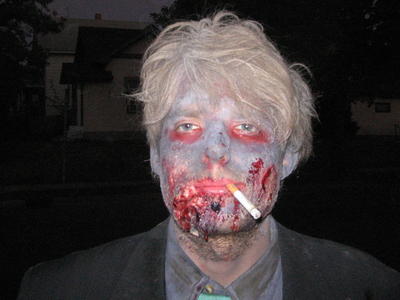 It's fucking hard to quit smoking, even when you're dead!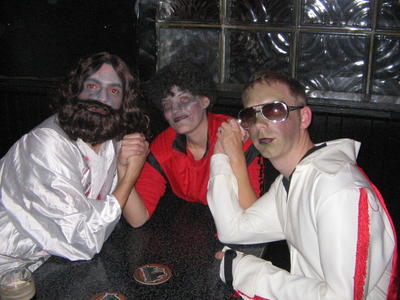 Zombie Jesus, zombie Michael Jackson, and Zombie Moby. Wait, was there a Rob Zombie? I don't think that there was. FOR SHAME!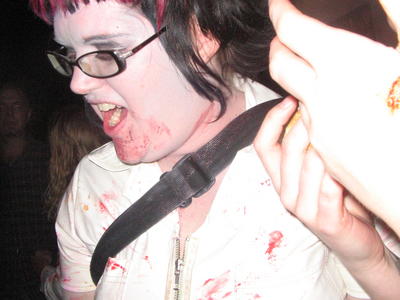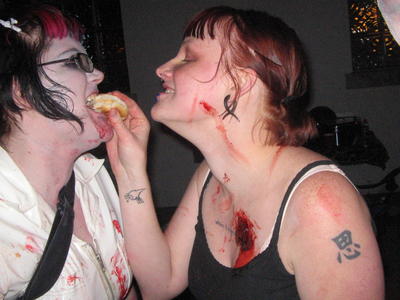 I put a dollar in zombie fetish nurse's cleavage. Cake Woman put her meat in zombie fetish nurse's mouth. I think Cake Woman won. Then again, I got to watch.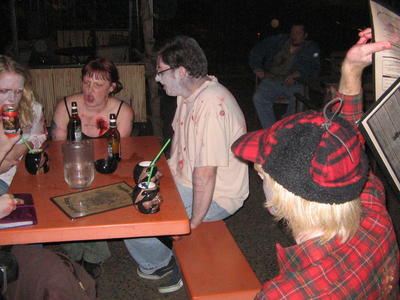 The wait staff at Psycho Suzi's apparently HATES US. I don't know. I don't remember this part of the night very well. I do remember Zach ranting about food. I don't remember what food arrived, just the pirate. Just One Eyed Willy and his particular brand of mind-erasing mayhem.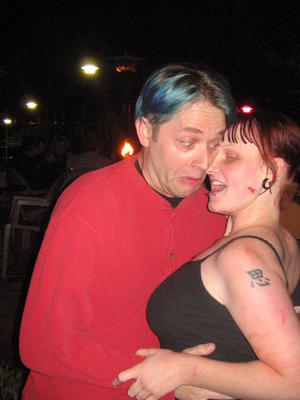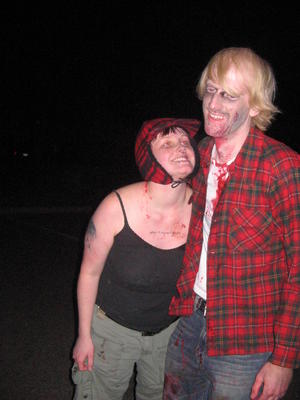 Cake Woman made out with every dude ever. I made out with some random chick (who shall remain nameless because her boyfriend was there). Then, Cake Woman picked up my sloppy seconds. Random chick's boyfriend was there for that and he liked it. I remember the slickery kiss, but not whom I was kissing, or climbing the fence later. Actually, I climbed it twice, because I went back for Stan. Then Stan and I went around. Apparently.
I woke up this morning with an empty bowl next to my bed, so I think that Lisa triaged me.
"Aw crap, did I sleep with the makeup on? I look like shit."
"No, I washed your face before you went to bed."
Zach apparently remembers the night a lot better than I do.
2 Responses to "I would do anything for BRAAAAAAAAAAAAAAAAINS!!! "