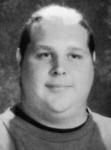 Jeffrey Lee Parson, 18, is t33kid. t33kid is probably the lamest hacker handle I have ever seen. t33kid has been arrested for releasing a variant of the Blaster worm. t33kid lives in Hopkins. Hopkins! That's twenty minutes away! If I would have known, I would have gone and kicked his ass.
I probably would have needed help, because he is a big big guy, and I'm not talking about what may or may not be in his pants. This time.
t33kid!

http://www.computerworld.com/securitytopics/security/virus/story/0,10801,84501,00.html
t33kid!
6 Responses to "This should provide adequate sustenance for the Doctor Who marathon "