The other night was New Year's Eve, and I didn't get drunk or even make any resolutions. I met Cake Woman at her house in Anoka just after eleven. We watched Aeon Flux cartoons off of DVD and drank just a little. Cake Woman had set an alarm on her phone to let us know when midnight struck, but it wasn't until 12:01 that she noticed the alarm going missing. We toasted and kissed anyway.
The next morning we woke up at a completely reasonable hour for a Sunday. Border's was already out of Cake Woman's Wall Street Journal. Breakfast at Bennigan's (are you guys talking about Shenanigan's?) included Smithwick's. I had the potato soup and Cake Woman ordered the Monte Cristo, the first sandwich and fried food to make a real run at turning my stomach. I can eat anything, but that sandwich made me want to go sit on the crapper for several days straight. My internal organs begged to have that monstrosity taken out of me.
After inflicting that culinary horror on myself, I drove us to Target so Cake Woman could buy a bunch of miscellaneous stuff while I followed her around sleepily while draining an thick but mild Sumatra from the tumorous Starbucks growing near the front doors. Then I took her to Williams Sonoma, amidst whose kitchen goods Cake Woman found a Kitchen-Aid mixer in hideous persimmon for $180. I contented myself with coveting knives and cast iron cooking contraptions. The mixer ended up in my trunk, since it was arguably the most valuable thing in my car.
The Gap was nearby, so Cake Woman found pants for me and a skirt for herself. I was uncontrollably drawn to a brown hoodie. It might be my new favorite, which is probably a sign that I have too many hoodies when I have enough to have a favorite. Cake Woman's plaid skirt made my eyes shoot out of my head while my tongue hit the floor. The nice lady in the Gap changing hallway frowned at the AOOOGAH sounds that my ears made, but what could I do? When I tried on clothes Cake Woman just sighed and rolled her eyes.
"I guess they hide some of your horrible visage," she allowed.
Just as I finished writing that sentence, Cake Woman called.
"Oh, I was just writing about you," I said.
"What were you writing?" she asked. I switched the window back to this post and found the paragraph, but she interrupted me with her own imaginings.
"Cake Woman is so beautiful and amazing and I want to spend all my time with her ever and she's so great and…" she trailed off when I didn't interrupt her in return. I paused a moment longer before reading her the paragraphs about trying on clothes.
"That makes me sound like a total bitch!" she spurted.
Admittedly, she didn't say the thing about my horrible visage, she was very nice and was happy to see attractive pants on me (for once), but the things that I pretend that she said are much funnier. My readership expects that if they have to read through a godawful long post about the minutiae of my life that they will get the occasional nugget of hilarity — or so I assume. I know that if I were reading about someone's expedition to buy pants I would hope that they would throw some funny in there, or at the very least some reference to the pants being on the floor of the dressing room while they broke the seat and then the door, finally spilling out (literally and euphamistically) into the hallway, much to the horror of everyone else in the store. Actually, that would be the funniest possible outcome, but I am not here to debate the intricasies of humor with you, I am here to relate my excrutiately long day to you and explain why, even at the end when I was sitting alone on the edge of the tub trying not to throw up everything that I had eaten over the course of the day, yesterday was pretty awesome.
For once in my life I had vague ideas of what to do on a weekend day completely on my own. Cake Woman was holding the note card that I had written out with the showtimes and theaters for every interesting movie that was playing on New Years Day. Her requests were Casanova, Capote, and Aeon Flux. From the Gap in Maple Grove (shudder) to the Uptown was a but a half an hour of crazed driving, which left another half an hour to kill at the used book store. Strangely, I was unable to find any H.P. Lovecraft there — not in horror, fiction, U.S. History, world history, religion — anywhere. We did find a lovely book of postcards of old timey movies, including one that went along with Cake Woman's former job as a Jet Dame: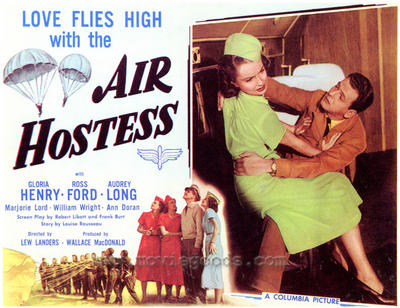 Casanova was all sorts of swashbuckling good, with swordfights and a lady dressed up as a guy while kicking ass and then the grand reveal of ladyness (oh yes, oh yes, oh yes!). It was well written, well paced, well filmed — pretty much across the board a well made movie. I would recommend it to anyone who likes a little period action now and again. What I would not recommend are the two elderly douchebags who sat immediately behind us. If you can avoid old men who never learned how to whisper and can't keep their fucking mouths shut, you would be better off. Eventually Cake Woman turned around and asked them to "shut the hell up, please." One of the men swatted at her as she sat back down. She says that if she would have known about the swat she would have started a ruckus, which, although an entertaining notion, probably would not have been cool, yo.
One of my goals for the day was to get to Kohl's to cash in my pile of Kohl's bucks (one buck free in every pack of Kohl's), so upon exiting the theater, Cake Woman recommended that we head west on Excelsior.
"Is there a Kohl's in Saint Louis Park?" I asked.
"Yes, there certainly is," she answered confidently.
As we drove past Southdale I let her know that we had gone ahead and left Saint Louis Park and headed straight on into Edina. As we merged onto 494 and headed east, I informed her that we had entered Bloomington.
"This is looking less and less like Saint Louis Park and more and more like Bloomington," I said.
"They look the same! It's all just a smear of shopping and crap!" she replied. Maybe I'm putting words into her mouth, but her explanation was something like that, and everything that she says is fucking hilarious, so fuck all of you people who are like "we want an exact rendition of every fucking word that comes out of her mouth." I have shit to do in my life that does not include videotaping Cake Woman to get every turn of phrase and twist of eyebrow correct for your voyeuristic desires!
If I would have known where we were to end up, I would have just taken us to Roseville, since it would have been faster and sort of on our way, anyway.
Kohl's was lacking in the pants department, or maybe I'm just too much for any pants to contain. Nonetheless, we exited with some giant cargo pants.
"Maybe you should pull those pants up over your gut," Cake Woman suggested.
"They are over my gut," I replied. "For these to fit I'd have to loop them from my gut down around my ass."
We tried to eat at Big Bowl, but they were closing as we walked in. Since we were planning to see Aeon Flux in Maple Grove at ten twenty, it seemed wise to head in that direction. Sawatdee was thrown in the air, and I eagerly caught it, but our arrival in Maple Grove presented us with Buca, where the garlic mashed potatoes make me cry a little. We ordered the small gargantuan pile of food. I secretly wanted penne arrabiata with spicy fennel sausage and crushed red pepper in a zesty marinara, and that's just what we got. The sausage was a little spicy (well, not at all for me, but I know when other people would find something piquant.