So, of course there was a debacle involving unexpected holds on my ability to register for classes in December which took a week or two to resolve. Then I thought that I had to wait to register for the 5xxx classes with my favorite professor (Carl Sturtivant) because I hadn't finished 4041 yet, so I didn't notice that I also needed a magic number because I am technically still a sophomore. Professor Sturtivant is in the hospital for something until after the first week of class, so I can't get a hold of him to impress upon him how much taking his classes will fit my work schedule and general plan for graduating or at least making it through the semester without getting a machete and slaughtering a room full of classmates plus any random people on the street until the SWAT team shows up and takes me down with far too many bullets. If I were in those classes, plus the photography class that I am waitlisted for, I could conceivably take Diff EQ again this semester, thusly freeing up my summer for Spanish or perhaps (and I am terrified and shamed for even mentioning this) an internship someplace… like Google. I can't even say that I would have a realistic chance of getting it, what with my academic record being so spotty — what with my life being so fucking spotty.
Of course, classes start on Tuesday. I need to get in to see my academic adviser (again) to get my Satisfactory Academic Progress appeal signed (again, every fucking semester), but now I can't just write off my credit completion ratio failure as all from the 1996-1997 school year, since I failed failed failed Diff EQ. How will that look on my unofficial transcript? There's no way that I'm going to get the sort of job that will really challenge me. Although, Google is hiring an admin assistant to the two company founders. I think that I'm uniquely qualified to handle such a position. If only I already had my degree.
I drew a picture of a flying saucer watermelon being piloted by Bigfoot with Nessie and a chupacabra fornicating in the back seat while the Flying Spaghetti Monster throws a robot at them and the Kraken tries to pull them down into the depths. A pirate ship is coming, but is it to rescue them or take their booty? Only your imagination will tell. Why is there a ninja? Why wouldn't there be a ninja? I'm gonna go have a nervous breakdown in the bathroom now, and by that I don't mean take a stinky dump.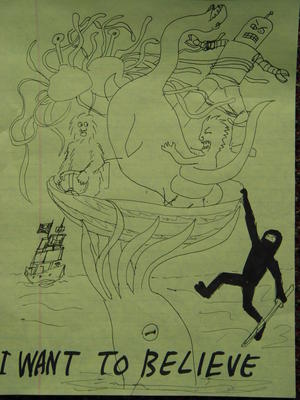 I swear that I will figure out what classes I will take this semester before the $50 fine — I mean fee — for late registration kicks in on Tuesday.
8 Responses to "Make up your mind "