Terry and Craig were over dropping off a hard drive for their PC and the Keathlys and I were having a sit down with them about all sorts of stuff, including food (of course). For those of you who don't know Craig (you might have met him at the Halloween Party, but by the time he showed up, I, uh, well, I'm not sure if he came or not, but I think he was there). Anyway, he works at Pizza Biga, and we talked about all sorts of pizza places around town. Angino's came up (and not necessarily in a positive light) and Stan asked which place we were talking about.
V-A-N-G-I-N-O-S?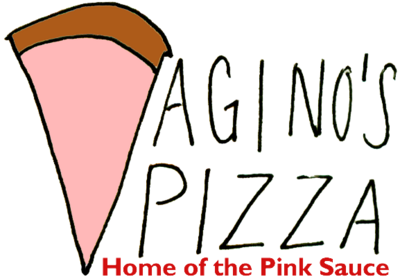 Hilarity, of course, ensued, but it took a minute to get everyone on board as the letters coalesced in their minds. It was decided that we should open a new pizza joint: Vagino's, which would serve Vaginese pizza — you know, from the Vagina region of Italy. It's at the top of the boot, on the inside.
Examples of hilarity included the addition of crabs, sausage, pink sauce, white sauce, and red sauce. Stan tried to send his back because it had hair on it, but that's what he gets for ordering the vegan special. Hair pie? I think hair pie was a better joke, because not everyone equates vegan with hirsuite gals.
The fun part was trying to decide how to pronounce it:
VAGE ee nos
va GEE nos
va gee NOS
va GINE os
VA gine os
If this were a podcast rather than a written blog that might be funnier, but you could just try reading them out loud, especially if you are at work.
There. That's all the funny that I have in me.
6 Responses to "Where To Eat Out "